Report Harmful Content has 2 main functions:
Advice: Empowering anyone who has come across harmful content online to report it by providing up to date information on community standards and direct links to the correct reporting facilities across multiple platforms.
Reporting: Providing further support to users over the age of 13 who have already submitted a report to industry and would like outcomes reviewed. Report Harmful Content will check submitted reports and industry responses against platform-specific reporting procedures and community standards in order to provide users with further advice on actions they can take.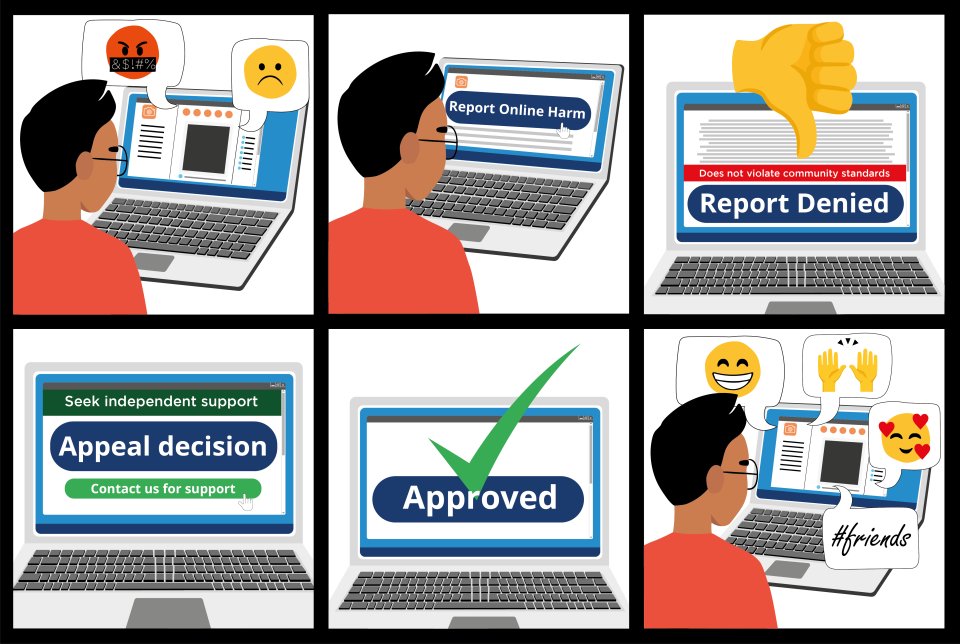 How do you define harmful content?
In simple terms, harmful content is anything online which causes a person distress or harm. This encompasses a huge amount of content and can be very subjective depending on who is doing the viewing; what may be harmful to one person might not be considered an issue by someone else.
Our focus is on:
Advice: Provide advice about all types of harm online, signposting users to the correct services and reporting routes  in the advice section of the website
Reporting: Focus on non-criminal content where until now there has not been a route for recourse when the response from industry has not been what was expected
What type of harmful content reports can you review and offer further advice about?
We can review reports made about the following eight types of online harm:
Online Abuse
Bullying or Harassment
Threats
Impersonation
Unwanted Sexual Advances (Not Image Based)
Violent Content
Self-Harm or Suicide Content
Pornographic Content
Why these eight?
We studied the community guidelines of several different platforms and  these areas of content are likely to violate terms. Also, based on our previous experience running two  helplines, The Professionals Online Safety Helpline and The Revenge Porn Helpline, we know we can offer further specialist advice and support in these areas.
You might wonder why we don't offer  reporting support for other types of online harm; this is because there are other routes to resolution where other categories of harmful content is concerned. For example, consider a piece of far right propaganda on a commonly used social networking site: this can be reported to the platform under their extremist content policies and then to the national Action Counters Terrorism service to investigate further. Our involvement here is about signposting to the right places to report such content. The Advice section on our website is dedicated to this.
What else can I find on Report Harmful Content?
We recognise that harmful content online can be part of a bigger problem, and as such have signposted to other services that can help. We also provide the police with information about the various reporting mechanisms available to them as law enforcers. Our work with industry continues and you'll also find links to the most up to date transparency reports for the most commonly used social networking platforms along with links to the safety centres of other social networking platforms on the site.